2 Min Read
A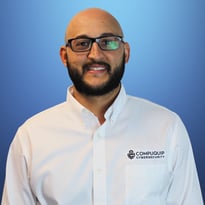 veteran to his country and to the world of cybersecurity, Abrael Delgado has been a essential part to our Compuquip family as well as our customer base; helping serve as the front line for customer cyber-support, building our initial team of engineers all while providing a customer experience unlike no other.
Mr. Delgado is no stranger to facing new cyberthreats and challenges in his career. Here at Compuquip, we recognize our team's efforts and have recognized within Abrael that he is driven by challenge. Abrael has shown us daily that he remains above cyber-threats, is customer-focused & loves developing new strategies and practices to enhance our team. Given his diligent work, it brings us great pleasure to announce that Abrael will be stepping up to become our MSSP Manager.
A Bit About Abrael
Abrael (or Abe for short), born and raised in Miami, FL, got his start within the realm of cybersecurity in 2004 where he served as a Systems Administrator for the United States Marine Corps in Quantico, VA. Abrael continued working alongside the Quantico cybersecurity community until 2008 when he made his way back to Florida and first crossed paths with Compuquip as one of our customers in the area of Osceola.
In 2015, Abrael joined the Compuquip team as one of our Senior Security Engineers in efforts to broaden our team and provide our customers with a transparent experience they hadn't seen yet. Since then, Abrael has worked alongside some of our largest customers and projects; spearheading along the way on numerous migrations, firewall architectures, deployments & our growing MSSP.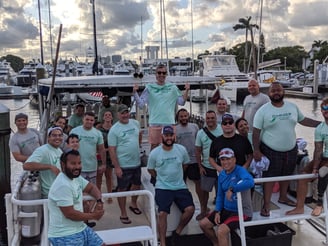 When he's not tackling new cyber solutions, you could catch Abrael at any given Miami Dolphins game. As a season ticket holder for the Dolphins, he continuously has high hopes of the fins being able to tackle their way to the top. Abrael is also an avid scuba diver and one of our team leaders for our annual Compuquip Summer Scuba season.
How Will Mr. Delgado's Promotion Enhance Our MSSP?
From managed SD-WAN and SIEM services to Security Augmentation, our MSSP team has been our visibility into the cybersecurity world and how we continuously remain on top of trends to help assist our customers. Abrael will be a key component to our continued growth, help develop our team and double down our resources to assist our growing MSSP sector.
"I'm incredibly grateful for this opportunity to transition into a new role and expand my horizons even further. I know that being the MSSP Manager and leading our MSSP efforts will be a challenge. However, going the extra mile as the MSSP Manager to strengthen relationships with our customers is going to be a big pay off—so I look forward to the challenge. To all of Compuquip's customers, and the rest of the team here: Thank you for all your support so far!"
Have questions about Abrael Delgado, career opportunities at Compuquip, or how your company may benefit from our MSSP offering? Contact us today and learn more about how we make security simple!