IT Practices Putting Businesses at High Risk
Are Your IT Practices Putting Your Business at Risk?
Maintaining a strong cybersecurity posture is an absolute must in today's threat environment. Opportunistic attackers all over the globe are constantly working to exploit any weakness that they can find in your company's cybersecurity architecture and practices. Despite this, many businesses follow a few IT practices that increase their risk of a security breach.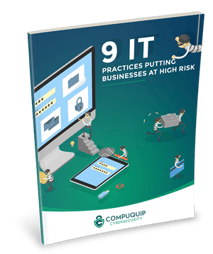 To help you avoid these IT practices that put your business at increased risk, we've
put together a guide that:
Outlines the nine major IT practices that put businesses at risk; and
Provides potential fixes for each of these practices.
Download the full guide now by filling out the form on this page.