Managed Security Services:

Accelerate the Effectiveness of Your Firewall Monitoring & Management
Learn How to Accelerate the Effectiveness of Your Firewalls!
Virtually every business uses some type of firewall to protect their network from external cyber threats. However, not every business uses their firewalls effectively. Business firewall management is incredibly complicated—and the consequences of having an ineffectively-managed firewall can be severe.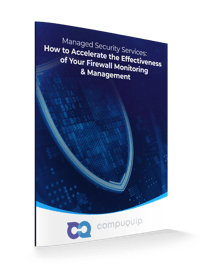 To help you, we've put together a guide detailing how using managed security services can accelerate the effectiveness of your firewalls so you can get a better return on your investment in these cybersecurity tools.
Download the full guide now by filling out the form on this page.