SFISSA 2019 Presentation

Security 3.0
Catch Important Cybersecurity Lessons by Downloading Our ISSA Presentation
We're proud to have been given the chance to have our CISO, Michel Ramirez, present our take on security 3.0 at the Information Systems Security Association's (ISSA's) annual conference. But, we know that the insights we shared there shouldn't be restricted to just ISSA members—everyone should have access to them.
So, we're offering a download of our presentation for everyone who fills out the form on this page. In the document, you'll find: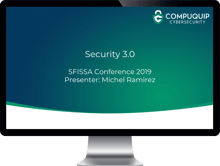 A brief history of the evolution ofcybersecurity (and security concerns) as the web has becomeincreasingly connected.
How the web has driven growth for all industries—and why cybersecurity is a must.
Explanations of how businesses can leverage automation to create stronger security controls across large or discrete network environments.
Download the full presentation now by filling out the form on this page.